Sourcewell Cooperative Purchasing Contract
Gopher is proud to have been awarded Sourcewell's Athletic and Physical Education Equipment and Supplies contract. Sourcewell makes the purchasing process easier and more affordable by combining the purchasing power of a large number of agencies nation-wide into a single cooperative group. Contracts are competitively solicited and make satisfying the public bidding process for its education, government and non-profit members simple and easy. Learn more below about Gopher's contract and how utilizing the power of Sourcewell's cooperative purchasing will make your purchases simple and effective.
Contract Number: 071819-PRO
Maturity Date: 10/03/2023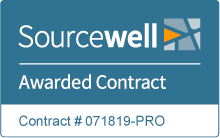 Get Started
Membership is free to qualifying educational, government, and non-profit organizations.

Already a Sourcewell User?
Complete this form and your Sales Manager will contact you to apply your special contract pricing to your next project.