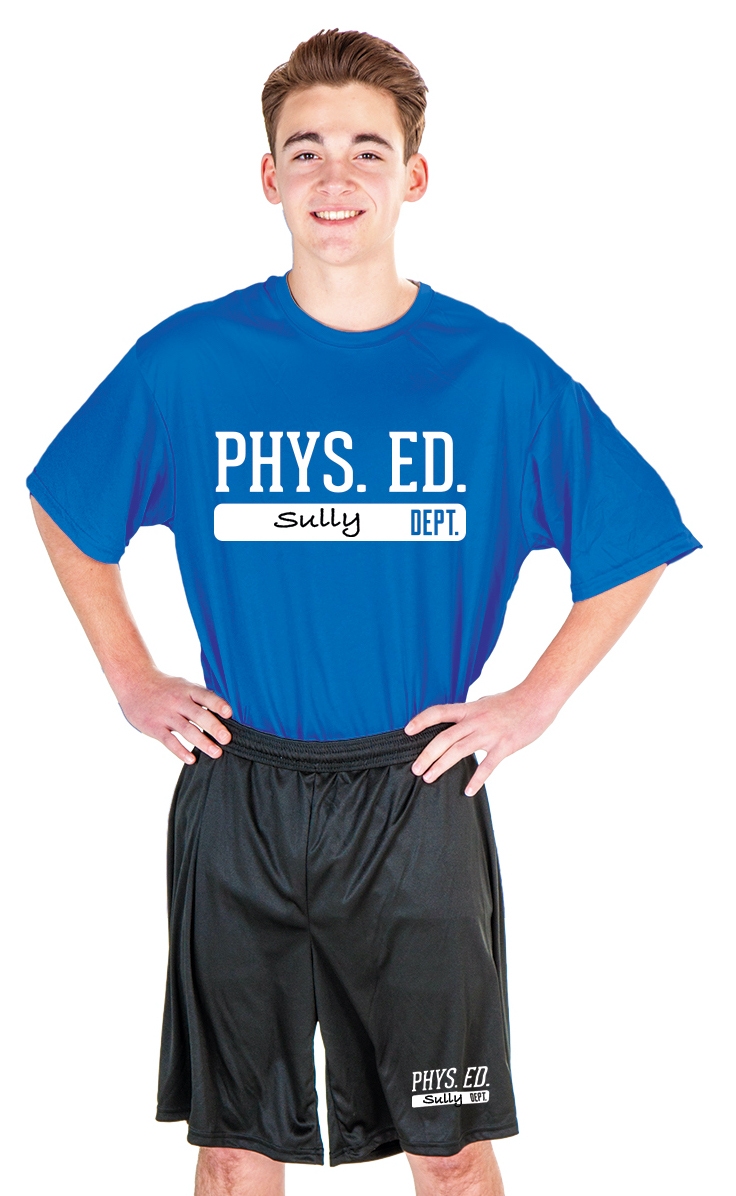 Create a uniform look for your students!
Outfit your PE classes with PHYS. ED. logo uniforms featuring either a 99% preshrunk cotton or moisture-wicking polyester t-shirt and 1 pair of 100% polyester wick away moisture.

T-shirt colors include Royal, Navy, Red, Maroon, Orange, Forest Green, Kelly Green, Black, and Gray.

Additional colors and logo options available.
Call one of our uniform experts today! 800-533-0446
Custom Design Options
Screen Printing
Screen printing involves creating a stencil, and then using that stencil to apply layers of ink on the printing surface. Each color is applied using a different stencil, one at a time, combined to achieve the final look. Screen printing is the best option for designs that require a high level of vibrancy or for specialty products.
Embroider
Embroidery is widely regarded as the premier form of promoting your school or brand on apparel, especially when it comes to professional uniforms. Your design is sewn directly on to the material giving that garment a high-quality look
Tackle Twill/Laser Appliqué
Tackle twill involves sewing down numbers or letters using multiple pieces of material layered on top of each other and applied with nylon twill. Known for its bold three-dimensional look, tackle twill is most popular among professional sports teams and youth athletic associations.
Heat Press Transfers
Decorating with a heat press is an easy, cost-effective way to brand apparel. It provides an opportunity to personalize a wide variety of items like adding names and numbers to sports jerseys.
Sublimation
Sublimation is a process of printing to fabric that provides a sharp and durable result that is sure to stand out. In sublimation, the inks are fused into the fabric as opposed to being applied to the top.
Call one of our uniform experts today with an idea of what you're looking for to get the process started!